(Catus: Cat in Latin)
Twenty Years ago, when fast food home delivery service began to grow because the people's lack of time, Catus Pizza used this opportunity to get into the Food Business with one of the most delicious pizza's recipe that you can taste. In this recipe stand out the Dough mainly due to its special way of preparation that makes the differen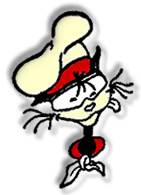 ce.
Since the beginning Catus has made a commitment with their customers: give the best service to our customers and improve the quality everyday, this is one of the main guidelines of our Bussines as follows:

Quality of our products, being very demanding when we choose our suppliers asking them always the best quality to prepare their recipes.

Customer Service, in Catus Pizza we care for the customers choosing the suitable personnel to deliver our products and give them the best service.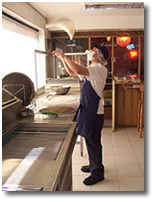 Fast Service, making routes and optimizing the delivery times to knock at the customer's door as soon as possible with our products in the best conditions.
That's the History of How with a lot of effort and dedication Catus Pizza made it through the years, positioning in a privileged place at the local Food market in the city of Concepcion, and now we invite you to taste our Menu of Pizzas and Pasta. And to come to enjoy our cosy bar !
| | | |
| --- | --- | --- |
| Catus Cocinero | Catus Motoquero | Catus Tenista |
| Catus Skate | Catus Nautico | Catus Ski |
| Catus Dancing | Catus Reparto | Catus Gafas |
| Catus Paracaidista | Catus Volador | Catus Pizza |
| Catus Aviador | Catus Enamorado | Catus Huella |